Post by Diana on Mar 22, 2013 16:02:08 GMT -5
EININ
Username: Diana
Character Number: 6
Name: Einin
Age: 17
Rank: Harper | Apprentice
Where they are from: Kusra Hold, Silence Country
Weyr: Silence Weyr
Gender: Female
Sexuality: Heterosexual

Appearance:
Einin is nothing if not proper. From the first moments she can remember Einin has been drilled to hold herself correctly and talk with the proper tone of a lady. Everything she does and shows as an outward appearance is to help with this. Her body is fragile in its own right as well, thin and spindly as could be. She is a sweet and delicate thing, from the dainty wrists and fingers to her long legs that she hides under skirts. Her face is softly rounded from youth, though the somewhat gaunt look she has tells that her life has not always been easy. Her eyes too, a bright turquoise blue, are slightly glazed over and expressionless.
Her skin is a pale color that is more than just being indoors, but a genetic inheritance that she has earned from her family. It is complete with light auburn, or just reddish orange, hair that is somewhat wiry and curly. However, it is often worn in braids and more "fashionable" styles in semi-complicated up-does that she spends patient time on completing before starting her day. When it is down though Einin takes great care to brush it until it looks like spun silk and shines as if it were alive with fire-light. For all of the pieces of her appearance that would give her a vibrant appearance, and maybe have one call her beautiful, there is something about Einin that is just haunting.
She keeps her voice as monotone as possible to not give away anything she is thinking or feeling, and as so may of her caretakers will comment all she does do when she speaks is sing pretty songs. Her voice is not without its good points though. Being a harper is her chosen craft despite knowing a little of the other "womanly" crafts as well, as her mother and father put them. She paints and dances and tells stories, though singing has always been her first and foremost love. When she doesn't have a vacant expression on her face, it is one of tenderness. Often this is when she is caring for someone or something. There are the few times that she can be defiant though; her voice quick to snap and grow cold as well, her eyes narrowing and showing her hatred openly in a cool and icy way.
Personality:
"My Skin has turned from porcelain…to ivory…to steel."
There are two distinctly different personalities in Einin, though this is not because of any mental illness or confusion on her part. Instead they stem from who she is normally, and has been her whole life, to who she has become in the recent two turns. On the one hand, Einin can be seen as somewhat selfish, even if she does try to be caring of others. She can be seen as snotty and elitist, though it is more from a lack of understanding the world around her than true belief.
She is incredibly "girly" though, relishing the things that are soft and gentle. She dresses in pretty gowns, attends parties when she can, walks around people with flowers and rainbows on her lips and an innocent grin showing off for the world. As a child she was much more delusional even, and there was not one dream of a high and well-off life that she did not have. There was little she did to become ambitious though. Instead of trying to covet the life she dreamed of, Einin simply thought it would come to her; a prince riding in on a white steed ready to sweep her off of her feet.
She has always attended the more proper etiquette that she has been taught with the utmost care however. There is not one situation where Einin is not thinking of how to go about it in the best of ways. Her voice must be quiet and subtle, her actions gentle and considerate, her mind shadowing what her betters believe and understanding things without being whisked away into confusion. If something goes wrong, she must handle it with a calm and steely exterior.
Yet, that she still has trouble with. There are few things that Einin can actually handle that would be considered "life threatening situations". Many, she will soon come to realize, she has no way of understanding or comprehending how to deal with. Still, she tries to act as if she knows what she should, and if something around her is amiss she is quick to scold. The girl is a bit of a perfectionist really, and though she is just as quick to try and aid, she will do her best to "teach" instead of simply help.
The other part of Einin is seen much more readily, though it is carefully veiled as well. Only those that take the time to look at her instead of just how she appears to be will notice that something is wrong. Einin is not just silent because she feels it is not proper to speak without being asked of her opinion, but because she has learned to be submissive to others. This, unfortunately, is especially in the case of ranking men, though women too hold the same sort of power over her, if not more in some ways.
She is innocent to ways of using her "womanly wiles" to intercede her opinions and thoughts into things, and how to is completely beyond her. Einin sees those kinds of women as the kinds she wishes to look up to, but the reason for their power is seen as courage and dignity instead of the sly manipulations that they really use.
To tell the truth, she is past the point of being fearful. Instead of simply becoming scared of her betrothed and his and his father's influence on her family and home, she went straight to doing whatever he asked of her. There was little that she questioned, and when she did question she quickly learned to never do so again. Eventually she just became steel and learned to weather as much as she could with a mask.
Einin was beyond being able to learn manipulation, but she could pretend well enough. She could sing and dance and smile and speak of sweet things and mimic words she heard from those above her. That, she found, was enough if she were careful. She is unable to trust people easily because of it though, even though she also wants to desperately. Unfortunately, it is often too late that she actually begins the distrust though, first instinctively wanting to feel close to someone again.
Behind that mask though, she still has a flicker of childish desire for love and "happy endings" though. Einin just wants her prince still to come and save her, but that hope she sees not coming any time soon. More and more that mask she has used to keep herself safe is forcing her to disconnect from her real feelings, and it is turning her cold and aloof. She is starting to forget what is the game and what is reality, and that is a dangerous thing in the place that she lives.
Likes
-Learning
-Fashion
-Daylight/warmth
-The Noble life
-Parties
Dislikes
-Getting dirty
-Feeling unimportant
-Being pushed around
- Being cold/night time
-Gaevner
Pets: 1 Firelizard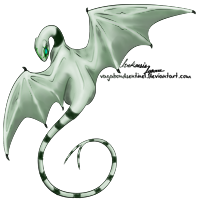 Pet Name:
Lady
Type and Coloring:
b0c3b1 and 273d27
Gender:
Female
Size:
Information:
- Personality -
Lady is just that, a lady. She is perfectly polite and quiet, and she cares greatly for those around her. If you're hurt, you can expect to her to be chirping quietly and sniffing in your direction while she asks if she can help make it better. If you're crying, she'll be there by your side to give you warmth and comfort. If there is someone misbehaving around you, she will be scolding the felon and chirping up a storm until her point is across. Though she is no Queen, and she does know this, she acts with the same sort of regal personality, and at times she may even act with more than she finds in the Queens around her.
- Appearance -
Lady is a tiny thing, even for a green. Just like her rider she is made of dainty proportions and soft curves that flow from one part to another. Her wings are tapered and bird-like in how they angle to give her better maneuverability and speed. Besides that she is fairly normal for her color, just overly small. Her tail is a tad too long giving her a lengthy and whip-like look. Her legs are also thin and long, though not overly so. Finally, in regards to her build at least, Lady's arched neck starts with a finely dished head that tapers into a pointed snout that flows back into elongated and thin head-knobs.
If anything, Lady is as pale as she is small and dainty, which means very. Except for the darker, almost black markings, she is practically white. Ranging more on a ghostly, green, it wraps around the contours of her body and becomes almost translucent on her wings. The ends of those sails are a bit darker, coming in at a partially see-through shade of the darker markings she has. Those almost black bits are seen wrapping around her neck in rings, and again around her tail. She has her front feet dipped in the color like shortened gloves. Then, it is located around her eyes along with a neon green that looks almost like a finely built mask that she is wearing.
History
"So wear me like a locket around your throat. I'll weigh you down. I'll watch you choke."

Warning:
Einin's history is
not
a happy one. Read at your own caution. It is not graphic, but again, it is not all rainbows and sunshine.
BEFORE BIRTH AND CHILDHOOD: 0-4
Father was the oldest son of a cothold's Lord.

When he married he took his father's place as Lord.

His first wife died, he married the second for love. This was Einin's mother, his late wife's handmaid.

They went the first few turns without a child, and with no heir from his last marriage Einin's father began to worry.

Finally Einin was born. Around this time her father fell into gambling debts with a wealthy man in the nearby Kusra Hold.

As more turns past no second child was born, and her father fell deeper into debt as he made bad choices and grew bitter at the absence of a son.

By the time that Einin was a young child both mother and father were already drilling her on etiquette and making sure that she acted in a proper fashion.

Einin's mother wanted her to be the Lady that she never was born as. Einin's father wanted her good enough to catch a wealthy Lord's eye.

When she was four turns, Einin's mother finally gave birth to a boy...it was a still born.

Her father retreated to the nearby Kusra to drink and gamble once more with the wealthy man there, ended up losing the right to his cothold.
CHILDHOOD CONTINUED: 5-10
To get himself out of this Einin's father made a compromise with the Wealthy Man.

Late in Einin's fifth turn her mother finds out about the compromise and openly objects to it and her husband's gambling.

Though Einin does not understand what is going on at the time, she tries to make her mother happier.

Her attempts at it though only anger the woman further.

In retaliation and in an attempt at making sure things went according to plan, Einin's mother became even more forceful with her daughter and pushed perfection on the young girl.

In her seventh turn Einin started to befriend a young girl that was a drudge. She kept it from her parents however thinking that they would dislike it.

She was right. In her eight turn her parents found out about their friendship and had the girl transferred to the larger Hold. Einin would not see her friend for a few more turns.

Around the age of nine Einin would begin to be introduced to her betrothed Gaevner. At first she is enthralled with the boy.

They play together and he treats her well when they go on outings.

Einin starts to learn a bit from various crafts at the age of ten, and complains when her parents do not allow her to study a "man's" crafts such as beastcraft, farming, and tanning.

She begins to do as she is told more and more, and she starts to think that anything different from her way of life is too different, and even lesser.

At ten turns she is pressed by her mother to pick one of the crafts to learn more soon, and she decides on weaving.
ADOLESCENCE AND APPRENTICESHIP 11-14
After a turn of weaving however, Einin is forced into another craft. Her mentor had been caught stealing from her mother, and thus the Lady deemed the entire craft full of thieves.

She chooses to become a harper later that turn and begins in on her studies. Instantly she takes to singing most of all.

Einin begins to spend more time with Gaevner, seeing him twice a season from the time she is thirteen.

At one of these meetings around her turnday she is given a firelizard egg by him that hatches into a green.

Her mother at first protests, but when her father learns that it was a gift from her betrothed makes her mother agree to not force Einin to send it away forever.

She names the green Lady.

For a time she starts to spend her free days with a kitchen boy.

He begins to teach her how to cook, and they grow closer.

One of Einin's father's guards sees the two together after the boy kisses Einin for the first time, he reports it to the father and like with her friend the boy is sent away.

Her fourteenth turn is where things started to get even worse. Finally getting to the age where she was deemed a "woman", her mother starts to ready her to become a wife.

Her father holds off on the marriage for a few more turns wanting to give his daughter time to adjust to her home to be.

Einin is finally told that she is to be married to Gaevner and she is thrilled.

At the end of her fourteenth turn Einin is sent to Kusra to live with her family to be.
THE LAST TWO TURNS: 15-17
Einin spends the first sevenday in bliss at the larger hold. She starts her studies again under the Harpers there and spends the afternoons with Gaevner.

It is not until her third sevenday that things change. She finds her old friend, though she at first does not recognize the girl.

She had been brutalized and used often by Einin's betrothed as some of the other drudges had been, an Einin at first does not believe what she hears.

When she tells Gaevner about her old friend's warning, Einin witnesses first hand as Gaevner orders the drudge to be beaten.

Einin then starts to become more and more careful as she begins to piece together why she was betrothed to Gaevner.

As her sixteenth turn comes around she learns to hold her tongue and be careful about the things she says or does. After one slip of the tongue she herself is beaten and still holds the scars on her back.

Desperately she tries to write home, but her parents do not answer. After the third letter her mother simply tells her to stop behaving as a child and that she should not tell such lies about her husband to be.

At the middle of her sixteenth turn Lady rises and Gaevner's firelizard catches her. She hides from her betrothed, locking herself in her room, and is punished for it later.

By the time she is seventeen Einin has become almost distant and wary of everyone around her.

She does little to go against her husband to be, waiting in fear of the day that they finally marry. Late in her seventeenth turn the Lord Holder of Kusra died leaving no male heir. His ward, Gaevner, takes his place as Lord Holder.

Any attempt she has at getting back at him is veiled carefully now, and most times she does not understand how to manipulate situations well enough to make it come out in her favor.
Candidate Info
Honorific: ---
Preferences:
-Gender Preference? Same or Opposite
-Any colors/patterns
-Mauling is fine
-Any personality is fine