Post by Diana on Sept 13, 2011 21:32:02 GMT -5
Candidate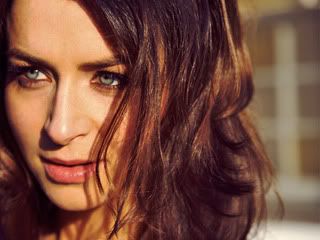 Username: Diana
Character Number: 2
Name: Athelia (Ah-tell-E-uh)
Age: 18 turns
Rank: Harper/Dancer
Where they are from: Kusra Hold, Silence Country
Weyr: Silence Weyr
Gender: Female
Sexuality: Flirts with anyone, hasn't given it much thought/really tried to be in a relationship before.

Appearance:
"Some have called me beautiful; I say they're trying to only use me."
Everyone's opinion of beautiful is different, however Athelia has been told it enough with a deceptive intention, she's sick of hearing those words. She has a decent shape, hourglass and topping off at a high 5ft 8in. She's willowy though, with long limbs that have the grace of any learned harper that dances. They are fairly pale though, only slightly sun-kissed by Rukbat's rays. It's certainly not for a lack of sunlight though. If anything, Athelia will burn rather than tan. Besides that though, she has a few freckles along her body, but not that many over all.
The most interesting thing about her perhaps, other than her shape, are her facial features. She has a heart shaped face, gentle in the way it curves at the jaw and cheeks. Full, pink lips adorn this as well; and gray, green eyes pop out from the middling brown waves of hair. That, reaches her mid-back, and is sheered slightly to form a layered look. Without it, she'd have too much hair to deal with. Athelia prefers to either keep it down or in a braid though, and she seldom sweeps it back in a bun. It's veil to hide behind, and frames her body while dancing.
As far as movement goes, every step is out of a dance for Athelia. She never does really stop dancing it seems, she just slows it down to a pace that others can deal with. Her stride is light though, and when she's bare foot, which is often, she will walk on the balls of her feet. She doesn't often stay still either. However, this isn't because she is hyper-active. In fact, if she has to, she will stay perfectly still. Athelia just prefers to be in motion instead, and will purposefully get up and walk around if she's been sitting for too long.
Personality:
"Have a problem with me? Get over it."
First and foremost, Athelia isn't a mean girl. She just sometimes comes off that way. She can be snappy, and has plenty of attitude. It simply stems from an inability to trust though. Athelia always assumes the worst of others unfortunately, she's been used too many times not to. She does however excel many times at feigning trust. It's easy for her to pretend as if she's your best friend, as if she will blindly follow. Most often though, she will not. Athelia looks out for herself more than anyone else.
This isn't to say that she doesn't have her fun moments. In fact, Athelia loves to be social. She enjoys gathers more than most people she knows even, and always will be the first to volunteer to start a dance or song. She's not scared to put herself forward, just to be used unnecessarily. Athelia is curious though. The one way you can entice her to come to you, is by teasing her with information she doesn't know. It drives her crazy, and she may even put a slight tantrum up if she doesn't get her way.
Again, this isn't to mean that Athelia is a brat. She just gets frustrated easily with others. That frustration quickly will turn to aggression or a snarky attitude if not checked. No one is even safe from this either, perhaps except for small children. They're her one weakness. Athelia could never bring herself to be overly mean or deceitful to a child. She experienced that too much herself, and would never attempt to hand that off to another.
Athelia also hates to be told "no." She doesn't like being restricted, and will fight any that are placed on her. Just try to tell her she can't handle something, she will be on it in a moment trying to prove you wrong. However, Athelia does have a problem with feeling judged. She detests when someone is trying to judge her, and assumes every time that it will be done unfairly for some reason or another.
Most would see this trait and wonder why she is a harper then. After all, they are judged all the time for their works. However, she loves to dance. She can sing and draw as well, though they are not as good. However, dancing is her life. It's her heart, her soul, her everything and nothing ever makes her feel better. The fact is, when Athelia is dancing nothing can hurt her. It's just her, and the music of whatever moves her body. She's not judged, she's not given any responsibility; she just is.
Pets:
One Canine
Pet Name:
Shay
Type and Coloring:
Red and cream canine pup
Gender:
male
Size:
medium sized canine
Information:
"Shay is the only one I can ever trust; the only one I will ever trust."
Only a few months old, Shay was bought from a trader after Nyan died. It was Athelia's saving grace in many ways to have the pup with her. He often is her protector, curling up with her every night and waking her when she has a nightmare. The red and cream canine is home to Athelia, no matter where she is, and she loves him for that. Besides, when she doesn't have time for a dance, she can at least curl up with Shay and listen to his heart beat.
History
"So you want to know my story? I think that can be arranged, if only you'll care to stay long enough."
Born the daughter of two drudges, Athelia was never seen as much of anything. She grew up forgotten, and even her parents seemed to push her away. The girl made no close friends, and found that the ones that she did make would rather choose each other over her. It made her insecure as a child, and was the start of everything.

"I remember the first time I saw them dancing. It was a fall gather, and the harpers had just arrived. There was one girl I remember, only five turns older than my six. She was beautiful simply because she was dancing. Afterwards, I begged her to teach me. Not just because of what it was that she was doing, but because everyone wanted her because of it. I thought I'd finally be needed for something, that everything would be better. I was wrong."
After that gather, Athelia spent every moment she could working out simple movements. They were mainly ones she had seen that day, or on special occasions at the hold. However, she didn't go to the Harper Hall until she was eight. Her parents hadn't even noticed hardly that she had left, they were too busy with her siblings.
"There was so much of a difference between Kusra and the Harper Halls. I loved it immediately. All I wanted to do was get into those classrooms and dance in front of them all. I wanted to shout at the top of my lungs 'look at me!' I was so foolish then...so very naive."
She was accepted after some pestering the Masterharpers there, and quickly adjusted to her new lifestyle. The classes were hard, but rewarding to Athelia. Soon, she was well known in her graduating group. This was the start of her troubles. This was the start of the betrayal.
"They said they were my friends. I believed them. I never thought they'd just use me to get on the harper's good sides, that they would use me for contacts or to take credit for things I did. The worst, was when my own 'best friend' used my entire routine for our final tests. I was forced to make something up on the spot, thank Faranth I'm actually good and didn't need to steal someone else's work."
The betrayal of her friend cut deep, especially because no one would believe the drudgebred girl over the daughter of well known harpers. Athelia looked at her 'friends' and turned her back on them as they had her. She had had enough. It wasn't until a turn later, at 17 that something would change.
"It was her turn to be foolish. She stole him away from me, and then she got a child for it. She was stupid, and it was her fault...so when she died, why did I take Nyan? Why did I take that little girl?"
Nyan, the daughter of the friend that had stolen her spotlight that day a turn ago, was taken in by Athelia as her own. She loved the little girl, and would spoil her with the best things she could buy. As for the boy who was Nyan's father, and once both her and her 'friend's' lover, he never cared to see his daughter. It reminded Athelia of her own parents, of how they had just pushed her off to someone else because there was too much for themselves to do. It angered her, but not as much as what happened next.
"Nyan passed away, she died in my arms. The healers said it was a sickness many young children got. It still hurt just the same though. I suppose things got bleak again after that, I don't entirely remember. The only thing that got me out of that was a little pup looking up at me with those same blue eyes Nyan had had."
Shay was Athelia savior. The canine she bought from a trader one fall gather was her companion after that. It was only a month after getting him though that she was searched out. Athelia had started to perform again for audiences, and the first was at Silence Weyr. There, one of the dragons sought her out and searched her. She agreed, simply because she was curious about what it would be like.
"Why not? That's what I told the rider. Why not? I had no idea what I signed up for..."
Candidate Info
Honorific: (Only applies if male.)
Preferences:
-Gender Preference? Either.
-I like intricate things a lot. Though, anything is great.
-Yep.
-Hmmmm...idk. xD