Post by Diana on Sept 27, 2011 14:34:13 GMT -5
Chiel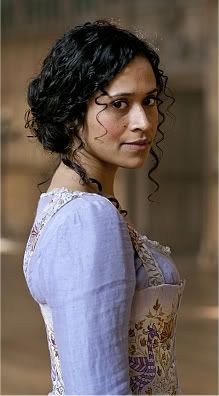 Username: Diana
Character Number: 3
Name: Chiel
Age: 27 turns
Rank: Wingsecond
Where they are from: Benden Country, Weyr
Weyr: Now at Silence Weyr *transferred*
Gender: Female
Sexuality: Bisexual, prefers females now-a-days

Appearance:
Chiel is about 5ft 6inches, not uncommon for a drudgebred girl. Her skin is a light klah brown color, and has a bronze tint to it when she's spent time in the sun. Her hair crackles around her face and neck, winding in tight, dark curls till just below shoulder length. It often gets in her way, so she'll braid parts of it back and fasten it with feathers and flowers.
Her face is a heart shape, but softer than some are. It's slightly rounded at the chin, giving her a feminine look that is mirrored in her curvy body. Her eyes are a dark, almost black hue as well. When Chiel speaks, it's soft and gentle. Not monotone by any means, but it has a balance as she does. Her clothes too are simple, mainly made of browns and creams, oranges or grays occasionally being thrown in.
Personality:
Chiel is modest, sweet and kind. She doesn't raise her voice, and she stands fast on what she believes in. All in all, she's a good girl to have on your side when you need someone to back you up emotionally. She's a rock in the raging sea, and she's a gentle hug when you're upset. She doesn't ever mind it either, in fact she's perfectly happy to be the shoulder to cry on.
As far as what she's like when she's mad? She doesn't get that way often, and when she does it's brief. Cheil's seen enough of anger from her own dragon to stay away from the emotion as much as possible. She is susceptible to becoming tricked or upset though. She doesn't exactly where her heart on her sleeve, but she does take things to heart when someone tries to cut it.
The rest of the time though, she is calm and serene. There's a sort of balance in her, one that is honestly what drew Lyth in the first place. Neither one to overreact or under-react, she's right in the middle with almost everything. There is no Black and White, only Gray.
Lyth
Bonded'sName:
Lyth
Bonded's Type:
Dragon
Bonded's Gender:
Male
Bonded's Hex Codes:
Black and Silver 000000 and 838b8b
Bonded's Size in Feet:
33 feet
Bonded's Age:
3 turns
Bonded's Personality:
Angers easily, aggressive, deceptive, cunning, prideful, sarcastic, rude, flirty, competitive
Bonded's Appearance:
Lyth, is well...lithe. He's long and big, but never seems bulky. His wings are tapered at the ends, giving him a sleek look, and his tail and body are whiplike in build. Other than this, he's made of angles. His head is a sharp wedge shape, his tail is pointed at the two ends, his wing spurs are even deadly looking. It doesn't help matters that his hide is a gunmetal silver, black color. He doesn't have markings per say, but it does have a metallic quality, and darkens greatly in places and is an almost white silver in others.
Pets:
Two Flits
Pet Name:
Sythe
Type and Coloring:
Blue and Red
Gender:
Male
Size:
17 inches

Pet Name:
Wynd
Type and Coloring:
Silver and Green
Gender:
Female
Size:
12 inches
Information:
Both flits were found on a beach shore one evening, hatching out only a day or two later. The siblings are complete opposites from each other as well. Sythe is adventurous and outgoing, while Wynd is shy and likes to stay near Chiel. In many ways they are two sides of the same mark so to speak. The male of the pair also if very flirty and goes after every female he possibly can, while Wynd hates being around any male besides her sibling. She can't stand how crazy they can be, and often will get flustered with their posturing.
History
Chiel was born at Benden Hold to a young mother. It was a Gold flight that had caused her conception, and as such, the father didn't really pay it much mind. After all, there were other half siblings that came through out the years after her. It didn't ever bother Chiel much though, or at least she never said it did. Instead, she stayed fairly poised through it all, even though she was meant for the life of a drudge.
Yes, she knew that from a young age. She saw the dragons in the skies like any of the other hold children did, but she never dared to think that she would be able to get out of her personal prison. That's not to say that Chiel didn't find other ways to find an escape. She wove. The girl learned bit by bit, mostly through her own trial and error. She never did go to a hall for proper training though.
When she was 20, Chiel fell for a passing harper, and she soon found that things had consequences. Ciela was that consequence to be exact. Her daughter never left her side as she grew for her first few turns. In fact, it was mostly because of this that Chiel decided to leave Benden Hold. She didn't want her daughter to have the same life she did, so at 23 she brought her to Benden Weyr instead. It was a new place, one that her daughter and she were looking forward to exploring.
It was at a hatching in her 24th turn that she met Lyth, or he met her actually...
The black egg was rocking now, shaking terribly in its efforts to escape already and come forth into the world. He wanted out! He wanted to be free! The egg hissed loudly and then an audible snap rang through the new silence that followed. A silver head poked through, the dragonet's eyes whirling a fast red color. He screamed as he clawed his way from the confines of his shell, lashing out at the pieces until each and everyone lay at his feet in tiny shards. There!

He turned then to the candidates, smirking as some of them quickly ran backward away from him. There were others though that ran toward him. He let them come, ignoring his clutchmates. He wasn't horrible enough to harm them, but a human? Oh, now that could be fun on occasion especially if they were making him mad. Which, these grabby candidates were. One boy tried to turn his shiny head toward his own face, and abruptly got a claw instead. The candidate reeled backwards, shouting and clutching a hand to his new wound.

The hatchling simply crooned a laughing sound and continued on his way. His stomach was growling, and he was done with all of this. He wanted His, and he wanted His now! Large wings folded in and out periodically as he found out how to walk. It was an awkward business after all. Looking up into the stands, he crooned again, climbing them too. There you are ChielMine. I was looking for you! Did you see those pretenders love? They deserved to be hurt, they deserve it still but you were calling.
Since then, Chiel has impressed two sibling flits and graduated from weyrling class. Her daughter is now 7 turns old, and they decided together to switch from Benden to Silence Country. It seemed safer there, and the promise of new life and startings was interesting.