Post by shinska on Sept 26, 2011 22:43:42 GMT -5
Candidate
Username: Shinska
Character Number: 1
Name:
Aela
Age:
15 Turns
Rank:
Dragon Candidate, Apprentice Healer
Where they are from:
Silence Hold
Weyr:
Silence Weyr
Gender:
Female
Sexuality:
Heterosexual
Appearance:
Aela stands at 5'1 and weighs 130 lbs. Her hair is a deep auburn, almost brown, color with tight curls in it. On hot days her hair is pulled back so she can try to keep cool, but the rest of the time its down and carefree. Her skin is sunkissed from a lot of time in the sun. Every muscle in her body is hardened from a lot of use growing up.
Aela's clothes are always comfortable. She wears whites and light browns and leather shoes. When its cold she wears the proper clothing and furs. The only time she wears dresses or other party clothes is when there are some kind of festivities like Graduations for Weyrlings and Wherlings. Her dresses consist of colors such as dark blues, dark greens, and even some light colors such as pinks and purples.
On really hot days she wears light clothes that help her keep cool. The material is very light (like cotten). She makes sure its soft, but comfortable. When the event arises she wears the proper swimwear into the water and tries to swim (she fails miserably). On occassion she likes to change her hair color from auburn to either black, brown, or red. The yellow colored hair never really suited her.
Personality:
Aela is a smart and caring girl. She has always been interested in helping others and was never afraid to speak her mind when she wanted to point out a mistake. Aela thought it was better to be hit for speaking one's mind then not speaking it at all. Aela learned from a young age that if one didn't speak their mind about anything then they wouldn't have the courage to stand up for themselves.
Death is not something that Aela takes well. However, she will do what she can to make sure that families get to say good-bye to their loved ones if they don't make it. Aela doesn't like to see families not being together in the final moments of the dying family member. Though she knows if the moment is sudden then there is nothing to be done about it.
Aela doesn't like bullies or anyone who harms those weaker than themselves don't deserve anything. Aela tries to protect those who hadn't been taught to stand up for themselves. If anything she will do what she can to get them to come out of their shells so to speak. Another thing that she doesn't like besides bullies is disorganization. Aela tries her best to keep herself organized most of the time, but sometimes she fails and can't find anything. Being disorganized causes her to be frustrated and she doesn't like being frustrated.
One thing that Aela is very frightened of is drowning. Since she was little she has just been naturally afraid of water... well not when it comes to bathing or drinking, but the kind where you have to actually swim. Aela has tried hard to get over her fear, but she has yet to be successful. She hopes that she will have the help she needs and finally enjoy swimming like normal people.
Pets: (Please list here and fill out the form below for each.)
Pet Name:
Type and Coloring:
Gender:
Size:
Information:
[/size][/s]
History
Aela was born to Brownrider T'lessen and drudge Ataliah at Silence Hold. Her sister was born in the spring 2 Turns before she was. When Aela came along the family was happy. They had two healthy daughters and cared deeply for them. T'lessen wanted one of his daughters to follow in his footsteps, but he didn't want to push them. Aela and Lesstaliah always fought as to who would follow their father. Both girls had been sent to the Halls when they were 13 Turns old for training.
Aela heard stories of the new enemy of Dragons, but she never thought they were real. One day when she and her sister were out alone out of sight of the Halls they came across evidence of the creatures. Aela and Lesstaliah both knew that they had to get out of there and back to the Halls. The two made a run for it and reported their findings to the Masters and Journeymen there.
2 Turns after Aela was at the Halls another band of Searchriders came. The Searchriders listened to their Dragons and then listed the likely Candidates for any upcoming Hatchings whether they were Whers or Dragons. Aela had been busy putting a salve together when her master came to get her. On the way she saw her sister too had been summoned. When the pair reached the Dragonriders they saw a lot of the other apprentices there. The Dragonriders went through and pointed to the Searched ones. Then the rider of a blueish green Dragon came to Aela and Lesstaliah. Aela waited with baited breath and then the rider pointed to... her! Aela had been Searched! With excitement she climbed onto the back of the blueish green Dragon.
The band of Searchriders disappeared Between and reappeared at Silence Weyr. Aela was excited to have been Searched and she couldn't wait to start her new life. Aela wanted to help Heal others until she was chosen by a Dragon.... if at all. Aela vowed that she would be a Dragonhealer if she did not Impress. She wanted to help heal the people at Silence Weyr no matter what happened.
---------------------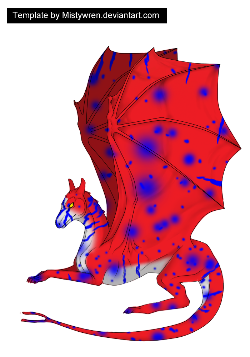 Name: Ilzieth
Size at Full Growth: 18 feet
Hex Codes:
EC2830
E0E0E0
0100FB
Physical Description: This somewhat pinkish-red male is rather lean in build, though with the wiry muscle that will afford him strength as he grows. He will likely fill out as he grows. His longer than normal wings are a great asset in the skies and his long tail which is somewhat more narrow at the end than most will also afford him some added agility in flight. His markings are a bit sporadic, but they are beautiful and almost metallic. He is, all in all, a beautiful dragon.
Personality: +Intelligent, Sly, Trustworthy, Kind
+/- Flirtatious, Coy
-Easily embarrassed, Bashful, Has a big ego at times, Easily irritated