Post by Akira on Sept 25, 2011 23:51:16 GMT -5
((This is not my artwork))
Character
Username:
Akira
Character Number:
1
Name:
K'lin

Age:
26 Turns

Rank:
Male Rider

Where they are from:
Silence

Weyr:
Silence Weyr

Gender:
Male

Sexuality:
Heterosexual

Weyr Mate:
Daedra of Female Mrith
Appearance:
K'lin has spiky brown hair that he has given up on trying to tame, and his eyes are a smokey blue in color. He almost always wears his riding jacket over just about everything he wears. He is very strong, but he tries to hide his muscles by wearing clothes that are just a tad bit too big for him. He is 5'11" inches tall, and weights about 160 pounds. He usually doesn't smile much, but when he does smile, his entire face lights up with happiness.
He normally wears his riding pants to all occasions, but if it is something important, he will wear his best clothes, though, they have maybe been worn three times since he got them. K'lin's long legs are what make up most of his height, but he is actually very equally proportioned. His hands are slightly calloused from all of the years of hard work, and dragon riding. K'lin's eyes are actually the best way to tell what kind of mood he's in.
Even if he looks like he's ready to kill something, his eyes will always show what he is really feeling. He will normally be found with a scowl on his face, and a far off look in his eyes, but he is actually a happy person. He does, however, have scars his stomach from when he impressed Bearith.
Personality:
K'lin loves to be out making other's laugh, and he has an excellent sense of humor, and rarely ever takes a joke the wrong way. He is pretty mischievous, but does try to keep himself out of major trouble. Though, that doesn't stop him from playing pranks on people that could very well do him sever harm. He is a very energetic man and does his best to work off that energy with his blue dragon Bearith.
K'lin is a very happy man and, much like his dragon, can be a shameless flirt. He is very good with kids, and weyrlings alike, and loves to be out playing around with them. He is a very respectable person, and will do just about anything he is told by those who out rank him, or are his friends for that matter. K'lin's dragon, and his friends are the mans life, and he would gladly give his own life in exchange for that of his friends.
Dragon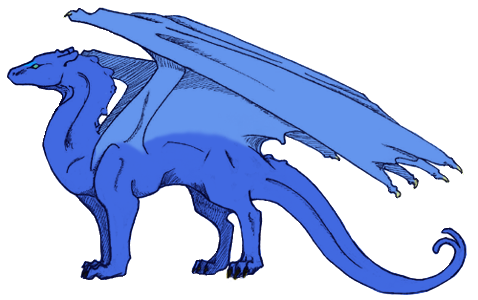 ((This is not my artwork))
This
Is Bearith's face marking. It was drawn by Hayvn. Thanks Sooo much!!!!
Bonded
Bonded's Name:
Bearith
Bonded's Type:
Dragon
Bonded's Gender:
Male
Bonded's Hex Codes:
Body: 4169E1
Wings: 6495ED
Marking: 1E90FF
Bonded's Size in Feet:
50ft.
Bonded's Age:
3
1/2
Turns
Bonded's Personality:
Bearith is a very gentle, sweet, and loving dragon. Though, he does has a mischievous side, and can be extremely excitable. He can be quite humorous, and has a tendency to play pranks on larger dragons, especially the ones that are almost always grumpy. Yet he is actually a very respectable, and respectful, dragon. He knows when to keep his thoughts to himself, but does has a tendency to be easily distracted.
Bearith seems to have an endless supply of energy, and can be a very big flirt, especially if he sees a female he really likes. He can be very compulsive at times, but he has gotten better at controlling his impulses from when he was just a weyrling, but no one can expect miracles from such a young dragon. Bearith has a tendency to be overly protective of His, and will do just about anything and everything for the man.
Bonded's Appearance:
Bearith is a very average looking dragon, except for his single marking. He has a marking right between his eyes that looks like broken heart. This marking is a bright blue in color. His wings are a pale blue in color that contrasts nicely with his royal blue hide. He keeps his wings tucked tightly to his body, but they are always ready to snap open at a moment's notice. Bearith's tail is normally, lazily flicking around behind him, and he wraps it around himself whenever he sits.
Mind-Voice:
I'm Bearith, this is Mine.
Bearith's voice is very sweet, but not a sickeningly sweet. It is the kind of sweet that reminds people of freshly baked blue berry pies. It is very gentle, and it seems to caress one's mind whenever it enters a person's mind.
History
K'lin was born in Silence Weyr, or at least, that's the only place he could remember ever being. The truth about his memory loss is that his parents were abusive, and the last time his father had hit him, he had hit him so hard on the right side of his head, that it knocked him unconscious for weeks. When he woke up he was in the infirmary and couldn't remember who he was, or where he came from. He doesn't remember much about his past, but everything he does remember, starts at the age of ten.
No one knows why he can't remember his past before that age, but he likes what he does remember. K'lin was always doing what he could around the Weyr, even some of the candidates chores if they wanted him too, but the place he remembers doing whatever he could to work near the hatching sands whenever there was a clutch, but he was normally only allowed to work near the sands when there wasn't a clutch. He would do his best to keep the sands clean, and free of debris.
He would normally just be allowed to keep the area around the sands clean and clear. In other words he would have to pick up garbage that people left on the ground around the stands. He didn't really like the fact that he had to pick up garbage, but it kept him near the sands so he didn't complain. He was never actually allowed on the sands until either there were absolutely no eggs, or until after a hatching. He would clean up the broken egg shells, and anything else that might harm the next clutch of eggs.
K'lin was standing by the stands, waiting for a hatching to end one turn when he was thirteen years old, when his life changed dramatically. He was in his usual place, and everything seemed to be going just like it always did. Every egg that hatched impressed with one of the candidates standing on the sands, but this time, something was different. K'lin couldn't, and still can't, tell what that difference was, but he's glad for it now. One of the hatchlings was in such a state of confusion that it was just standing there, not moving towards any of the candidates.
When the first candidate tried to get close, it seemed to snap back into reality, and almost mauled the poor kid to an unrecognizable state. The hatchling swiveled it's head around, and looked at everyone it could, by then everything had gone silent, and no one was moving. When the dragon's swirling eyes landed on K'lin, it seemed like the world stopped. K'lin could only see the hatchling, and it seemed like it could only see him. It felt like his heart was going to beat right out of his chest when the hatchling started towards him, and he started towards it.
K'lin wasn't aware of all of the disapproving eyes, and all of the hands that tried to stop him. He was only aware of the hatcling's mind-voice inside his head. He was finally jerked into reality when he felt Bearith's claws scratch at his stomach, he was trying to get him to move and get him something to eat instead of just standing there staring at him. After everyone calmed down a little, and K'lin was looked at by a healer, he found out that the marks on his stomach were nothing to worry about, and neither were the ones on the right side of his head.
It took a long time before people accepted the fact that a boy with very little memory, and no real experience with dragons, had impressed a large male dragon. He didn't care what the other's said about him and Bearith, he was the first real friend K'lin ever had, and he wasn't going to give him up. Both him and Bearith were excited when they heard that they were going to start weyrling training with the rest of the people who had impressed a dragon. Once they started training, it seemed like time just flew by. One day they were just starting their training, the next they were graduating, and joining a wing of their own.