Post by Diana on Sept 21, 2011 23:26:49 GMT -5
Talia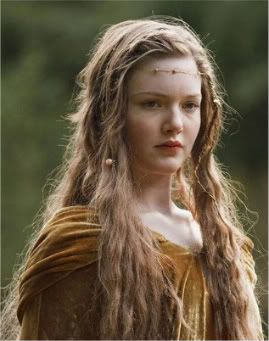 Username: Diana
Character Number: 3
Name: Talia
Age: 17
Rank:
Where they are from: Silence Weyr, Silence Country
Weyr: Silence Weyr
Gender: female
Sexuality: Bisexual

Appearance:
The first thing people notice about Talia generally is that she looks sweet normally. She has a gentle atmosphere about here, and even her voice is quiet. Her hair is a soft, wheat gold color, and waves and curls around her face in varying degrees. Generally there are parts braided or put up with feathers and beads as well, giving her a slightly wild and ethereal look.
Her face is a more rounded shape, however no one could really say it's because she's overweight. She's too thin for that, so instead people place it because of her stronger jawline. Either way, it only adds to her harmless persona. Her eyes are wide and ovular as well, a klah brown hue that has shards of gold in their depths. They're surrounded by thick lashes that are a golden brown color, adding some definition to the feature.
As said, she's fairly thin at about 5 foot 6, however she does have curves to her. She doesn't pay them any mind though, and will wear dresses that are comfortable more than flattering. They generally come in fall colors; oranges, browns, reds and pinks. Occasionally a green, purple or blue is thrown in too. She will also wear skirts or tunics with pants, but that's less common and at least will have a nice blouse too.
Personality:
Even temperament, quiet, shy, calm, gentle, helpful, careful
Talia is an even tempered girl. If she were a runnerbeast, most would think she'd be the pride of the herd since she's so easy to get along with. She's quiet as well, and almost no one hears her when she speaks unless they're close by. It is entirely because she's shy. In fact, she rather be out of the way doing something outside than surrounded by everyone else. When confronted, she slips away. When pestered, she takes the beating quietly without so much as a protest. It's easier to just let things happen and get over them than to go against the way things are.
Talia is also a very calm girl. She hardly ever gets overly excited, and strives for a certain balance at all times. It helps to keep her centered, or so she says. She never harms others, and scolds herself whenever she thinks viscous thoughts as well. Those with that kind of personality are pitied by Talia as well, and she often hopes that they will turn out better one day. Around others though, she is very careful. She doesn't trust those that flirt with her, because honestly she doesn't think she's worth the effort. When she is sought out, she never becomes flattered either; instead she automatically thinks it's for some purpose that needs immediate attention, like someone who was injured for instance.
Because of this, many leave her alone to be by herself, and she is stuck watching from the outside in. It's a lonely life for her, or was up until she met Harruth two turns ago.
Harruth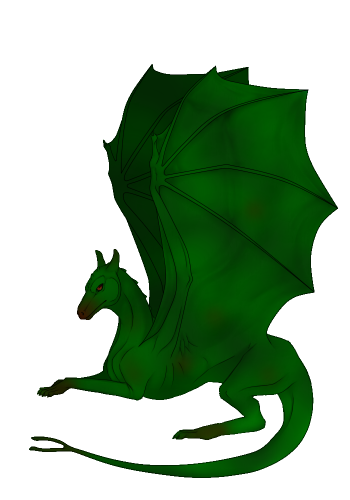 Bonded'sName:
Harruth
Bonded's Type:
Dragon
Bonded's Gender:
Female
Bonded's Hex Codes:
Body- 015301
Markings- 351600
Swirls- 032503, 045201
Bonded's Size in Feet:
16 feet
Bonded's Age:
two turns
Bonded's Personality:
Gentle, shy somewhat, matter-of-fact, easily frightened, unlucky, hopeful, aloof, determined
Harruth, like her rider is a gentle soul. She doesn't tolerate herself or Hers, or anyone else for that matter, to be put down though. However, she is very soft-spoken and gentle. She hates to fight, and will not if she can help it, and she hates to raise her voice. Harruth also isn't that huge of a flirt. Not that she isn't capable of it, she's just very shy about how she does things. In fact, she's the type of girl that would much rather sit and sun bathe next to a male, than have him do tricks for her to be impressed by. If a male, or anyone really, tries too hard to impress Harruth or someone else, she thinks it's distasteful too. After all, most times when someone is trying to impress another, they try much too hard. On top of this, as said before, Harruth is a very gentle and soft-spoken green. She is also very motherly. She mothers others, and Hers, constantly.
Bonded's Appearance:
One of the smaller size ranges on Pern, Harruth comes at a whopping 16 feet. Yeah, that's sarcasm at work. She's a petite thing really with wings that are just long enough for her body, and a tail that's a bit longer than it should be. Often, it will flick about in different ways. Her hide is a middling sort of green, and has swirls of a reddish brown at her muzzle and paws. Other than that, she's a fairly plain looking dragoness. During flight, she is quick and agile, but lacks the staying power larger dragons have.
History:
Born in the Weyr, Talia grew up the daughter of a mother who had been sure she'd impress. Instead, the woman had not, and elected to work under the Head Woman instead. Needless to say, she was out for some sort of vengeance. From an early age, Talia was groomed to be a good little girl who followed the rules and would easily hold her own in a more dignified position. Or that's what her mother hoped for her in her own mind.
Talia on the other hand thought it was rediculous. She just wanted to be loved for who she was and what she could do. Instead, she was constantly nit-picked at until everything she saw, Talia thought was flawed. Eventually she was able to get away from her mother and start her candidacy training. Talia was, needless to say, a perfectionist for the first turn or so. Little by little, away from her mother's jabbings, and instead under the more helpful aid of the candidatemasters, she was able to feel more confident.
She never did feel entirely comfortable with others though. Talia had a hard time talking with others without feeling like she was being judged. Because of this, many of the candidates left her alone and thought she being anti-social. Finally though, Talia felt something that changed her entire life. It was a touching in her 15th turn, and the clutch was average sized for a medium dragoness. The candidates were gawking over the larger eggs since few that size had been laid in the last turn.
Talia however felt drawn to the smallest of that clutch. It seemed....fearful of the world outside. She could understand that certainly, and before she knew it, Talia had spent all her time that touching with the tiny egg. Not long after, the hatching started. It was nerve wracking to watch the eggs hatch, and once again fail to be chosen. Flicking her eyes to the small egg she loved so much though, Talia bit her lip. It wasn't even rocking. Had she fallen for a dud then?
The candidate refused to believe this though. She called out for someone to help it as it started to jerk slightly. Someone had to help it out! It just needed help. When no one answered, not hearing the quiet girl over the other hatching sounds, Talia did the unthinkable. She ran to the egg and pulled at a crack that had already been formed. Inside, the hatchling helped by poking through the egg sack, and finally a green head popped through.
The mother at first cried out against this, but once she saw the dragonet being helped, she nudged Talia out of the way to crack the rest of the egg gently. A small green and brown dragoness slid out then, crooning as she looked up adoringly at Talia. Oh TaliaMyLove! You found your Harruth, you came for her like you promised those days ago. I love you, now please help me get off the sands. They're hurting my hide.
Since that day, Talia and Harruth are closer than most would expect the distant girl to have become. She even has gotten a bit more comfortable with groups, however Talia still avoids crowds. Their latest achievement was graduating from their weyrling class.