Post by raerea on Sept 29, 2011 21:54:37 GMT -5
WELCOME... TO A THREAD-FREE PERN. WELCOME TO MOONLIT WEYR.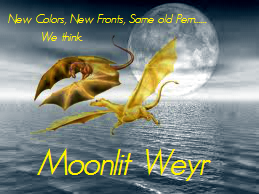 SOAR UPON FRAGILE DRAGON WINGS
Thread is gone. It has been officially gone for 2 turns now. AIVAS's plan worked, and the Pernese are free of the menace of Thread forever. The outpost on the Western Isles that had hosted a wing to protect its starhalls now held the riders led by a young queen and her favored bronze, who created a new Weyr - Moonlit. The Weyr soon proved itself as more than a way to ease the tension in the crowded Northern and Southern Weyrs, because new colors started appearing in dragon clutches. These new, additional colors are what make Moonlit somewhat special in a world that suddenly finds itself without a true need for the Weyrs. There are no new colors at the old Northern Weyrs, nor even at the Southern ones. New jobs for dragonriders, the thread of asteroids nearby, darkness creeping around the Isles, and the possibility of the new colors to have some sort of special abilities besides telepathy, telekinesis, and teleportation, together make Moonlit Weyr a very unique place to live. And its only getting more interesting!
WE FLY TO SAVE THE WORLD WE LOVE
What are Dragons and Weyrfolk to do with their enemy - Thread - gone forever? (No doubt they are happy, but it is a somewhat embittered joy. Their livelihoods are moot.) Moonlit Weyr's about to find out... There are several possibilities, but will any dragonriders take to the new ideas? And what could the new rumor going around about the new dragon colors being special in other ways be? Is there any truth to the rumors?! Now that Thread is gone, Pern's holders are beginning to broaden their horizons, but that means someone has to protect them from wild felines and other natural dangers! Fireball- asteroid- threats are possible, but natural disasters are more likely and more common. Dragonriders are sworn to protect the people of Pern, and we will! Using whatever skills we have....
THE HOME OF MOONLIT
.|.
THE FULL ADVERT OF MOONLIT
.|.
THE DRAGONS OF MOONLIT
.|.
THE HISTORY OF MOONLIT