Post by Vrake on Sept 27, 2011 12:54:34 GMT -5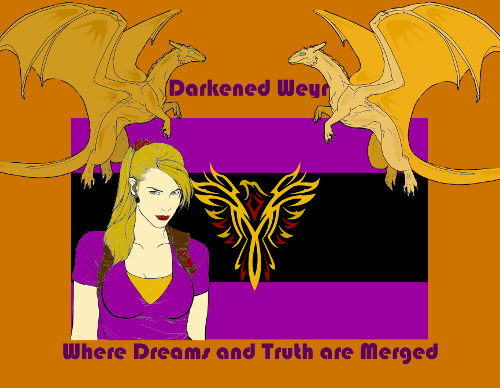 Everyone knows that AVIVAS' plan to get rid of the Red Star. Well it failed. Badly. All that happened was that the Rest Star now is close to Pern for 200 years, and gone for 50. Now the Traditionalists have a reason and a way to get rid of the technology, but not everyone agrees. Southern has decided to keep working to find away to get rid of the Red Star forever. And they have an Ally. The Darkened Weyr

We are halfway through the first long pass. Thread has been falling for one hundred years, and still no end in sight. In the year 2570 a new weyr and hold were created. In the western continent it was found to be what both the north and the south couldn't be. A paradise. Even when thread fell, the bedrock was there to save them. The land was warm, and never got to cold. And so efforts were placed into creating a new weyr. The Traditionalists were against this, and fought every step of the way to stop it. Landing had found a way to use a laser to cut into rock, and so the Traditionalists felt the Weyr was taboo. The Northern continent refused to accepted the Western Weyr and Hold, nicknaming it the Darkened Weyr. Which stuck. Southern sent as many Dragons, Riders, crafters, holders and everything else they could spare to the new Weyr/hold. No Queens could be spared, nor any eggs. But everything was sent to help them build and protect the new Weyr and Hold from the falling thread. For the safety of the Weyr and hold they are placed right next to one another and all share tasks. The Dark Weyr is one of the most advanced weyrs technologically. They have taken what they could learn from AVIVAS and built on it. Now anything that is 'high tech' most likely comes out of Western Weyr, though mainly Southern Weyr and Dark Weyr (And their holds) are the ones to use it.

The weyr was blessed with one green who could clutch, and did once a year. Though no queen egg came of it. Sadly the green, Minath (and her rider Pilian), died, leaving the old Weyrleader D'mar heartbroken. Then twenty eggs were given to the weyr from Southern, and three queens were hatched. Twin Golds graced the sands and chose a 'broken' young woman of the name Lokin. The twins were the elder golds, and one of them rose at a young age, pressured by many things. D'mar had become power hungry, and was 'courting' Lokin, though he was violent while doing it. The young gold rose early, letting one of the few bronzes catch her, Morith. A new weyrleader stepped into the now broken weyr. V'riy.

Two year have passed. Lokin has healed full with the second Gold and her rider Remi, slipping into place as her Junior Weyrwoman. between the two they fixed the problems of the weyr, but more problems are brewing. A new Weyrleader has been found for Benden Weyr. None other than the power hungry D'mar. He's fighting Thread, but now he's turned his attentions back on Darkened Weyr. As the top Weyrleader, he's finally opened the way to having Darkened Weyr be accepted, but at a price.

Darkened Weyr has been giving an Ultimatum. Let all eligable dragon's rise all three queens, or be demolished. All three Queen's are showing signs of rising soon, though it's the Sr. Queen that's got everyone's attention. Athenath's grown up from that young queen who's first clutch was all duds. She's fully grown, and will have none of it. Already she, her twin, and their rider are trying to find a way out. D'mar is trying to show them all what they are sapposed to do, explaning that the Weyrleader, and woman are young, and inexperienced, and that the Weyrleader should be older. Already he's sent bronzes, Silvers, and even browns to the weyr, hoping. Alway's hoping. What will you do? Will you help D'mar? Will you help Weyrleader V'riy and the Weyrwomen Lokin and Remi? It's all up to you. Welcome to Darkened Weyr.


[/li][li] New Plot
[/li][li] Friendly Staff
[/li][li] Active Admin
[/li][li] Competitions
[/li][li] 2 Staff positions open.
[/li][li] Whers, Firelizard, Dragonet Hatchings at least monthly.
[/li][li] New Pet Design's always Welcome.
[/li][li] Technology is semi-modern.
[/li][li] Tenth Pass
[/li][li] All Dragon Colors Are Open.
[/li][li] High Plot Positions are Open
Home
|
Advertisments
|
Rules
[/center][/size]